Often neglected by architects and decorators, the laundry room is an ugly place that often has very little functional space and a lot of unusable space. So how can you use what you have in a more efficient way?
Pinterest is filled with ridiculous ideas for the laundry room that won't work for most people. Floor-to-ceiling laundry basket storage. Ironing board islands. Landry hampers that go through walls. Walls of old gym lockers. For most people, just having enough space to implement any of these ideas would solve the problem in itself. So let's take a look at some real-world laundry room problem solving.
1. Shower Caddy Storage: Vertical, tension-based shower caddies keep all your laundry products visible and within reach, but not sitting all over the dryer. Another variation on this
idea is using over-the-door storage, but I don't like this idea as much because of the noise these things make, the damage they do to the door, and the fact that it's not close to the washer. Plus, it's not very pretty, even with the addition of chalkboard paint, which is pretty useless and falls under classic Pinterest shenanigans in my book.
2. Wall-based Drying Racks: Men's shirts and tank tops are fine hanging dry, but many items
can't be hung on hangers. And for those of you who cloth diaper, you may prefer to air dry as well to help preserve your elastic. Clothing care aside, when you live in the South you just don't use your dryer in the summer, period. It's not worth the extra heat. Wall-based drying racks like this one, or even this hidden clothesline are both great ideas for tight spaces.
3. Tiny Shelves: For really tight spaces, even a shower caddy may not work. Using tiny shelves or wall-based bins helps make use of wall space while achieving the same goal of keeping your laundry products close at hand but neat and organized. It's a great idea for spaces with stacked washer and dryers, but it could work for anyone.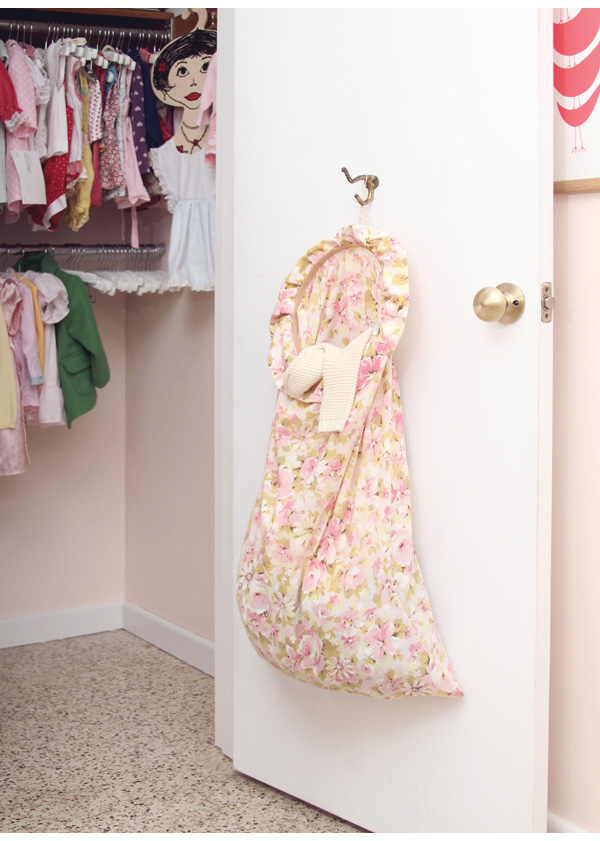 4. Hanging Hamper: Sure, this isn't a new idea, but I like the spin with this blog on using fabric of your choosing and an embroidery hoop instead of a standard laundry bag. Depending on the fabric you choose, the hamper can be a focal point instead of an eyesore, and it also helps free up your laundry baskets. This is also an idea you can use in every room of the house to get rid of bulky hampers.
5. Upside-down Laundry Basket Shelf: This is pure genius. I love
using laundry baskets for organization, but when they are full, they are bulky and space-consuming. This couple took your typical, 20-inch wire rack from a home improvement store, and installed it upside down, so the top was angled and the lip faces up. That made a very reachable rack for laundry baskets. Then, they installed a smaller shelf just below to keep their products organized and within reach. Love it!
I have to include one last idea that takes a small amount of money and made it go a long way, both towards organization and style. This couple took a laundry room with standard awful vinyl flooring and a bare-bones wire shelf, and $157 later turned it into a much smarter space. This couple did get lucky with some cheap key finds and their ability to DIY—did you see the $10 light fixture he made?—but you could probably get pretty close to this result with Ikea cabinets and shelving.
Here's what they did: first, they sanded down and repaired the vinyl floors, then used patio paint to do a simple but fun wide stripe. They also painted behind the washer and dryer and added a simple peacock stencil to the wall in the same color. Then, they replaced the awkwardly placed wire shelf with a small cabinet and a few floating shelves. Lastly, they repositioned their washer and dryer to allow for a small wastebasket/hamper in between.
All of these ideas are fairly simple and budget-friendly. I hope they've provided some inspiration for you!
Erin Burt is a freelance writer and mom of three girls. She enjoys yoga and reading non chick-lit fiction when she's not translating the ramblings of toddlers or training for her next half marathon.
Latest posts by Erin Hayes Burt (see all)