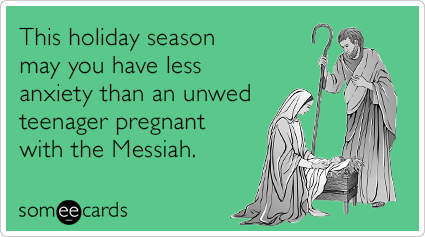 When you have a family member with a personality disorder, it can make holidays more stressful than they already are naturally. Sometimes you can avoid these situations, but occasionally you can't.
Here are some tips for those who will be encountering a friend, coworker or relative with a personality disorder this holiday season.
Give yourself options. You may be able to get through this event, you may not. Consider other stressors you are under right now and if it's possible to have healthy interactions with this person right now. Remember that you can say no. Holiday events are not mandatory for anyone, even though many times we think of them that way.
Give your family options. Remember that you don't have to put your children and spouse through this. Allow them the space to say no if they feel uncomfortable or on edge around the individual with a personality disorder. Don't take it personally if they don't want to go.
Have an exit strategy. Know ahead of time how long you plan to stay and stick to your plan. Have a reason to leave ready to use if you need it. You don't have to be elaborate or give an explanation. You can simply say that you need to leave, and be ready to insist on it.
Don't fall into guilt traps. Many times individuals with personality disorders rely on guilt and feelings of obligation to get you to bend to their will. Think carefully about what they say and what messages they are sending. Reject anything designed to make you feel guilty simply for standing your ground or holding the boundaries that you have worked hard to establish with this person.
Don't resort to the old scripts. Learning about scripts was pretty life changing for me. It's probably the easiest way to identify a conversation or interaction that isn't going anywhere helpful. When you find yourself faced with a script from your old ways of interacting with this person, don't conform to it. Shut it down.
For more resources on dealing with individuals with personality disorders, check out Stop Walking on Eggshells by Paul Mason and Randi Kreger, and Boundaries by Henry Cloud and Paul Townsend.
Erin Burt is a freelance writer and mother of three girls who has struggled with personality disorders in her family. She lives and writes in Oklahoma City.
Disclosure: This post contains affiliate links.
Erin Burt is a freelance writer and mom of three girls. She enjoys yoga and reading non chick-lit fiction when she's not translating the ramblings of toddlers or training for her next half marathon.
Latest posts by Erin Hayes Burt (see all)