So we've all had enough of the Kardashians, right? Or at least we tell people we have but then still secretly look at their photos because let's face it— these girls are gorgeous and they know how to work it!
But even if you say you are finished with the Kardashians, little sister Kylie Jenner still holds some sort of power over us. Maybe it's because she's up-and-coming and not over-done. Maybe it's because she presents herself as just a tiny bit more "real." Whatever it is, she still intrigues us.
Just take a look at her in her updo— so cute, right?! We love how it contrasts with her casual gray t-shirt. And there's something about her bold makeup that, paired with the updo and t-shirt spells "trendy." It's flattering and unfussy. We adore this messy top knot for the holidays.
Kylie's 'do inspired us to check out a few other celebrity hairstyles.
How about Eva Longoria's asymmetrical updo. It's high on volume on the crown and paired with her simple black dress spells "Class" flat out!
We are in love with this photo of Uma Thurman. Just check out her gorgeous curls, twisted into an updo that spells "simply glamorous," no question! With her understated mouth and cheeks in a light peach, contrasted with bold eyes, Uma looks stunning and glowing.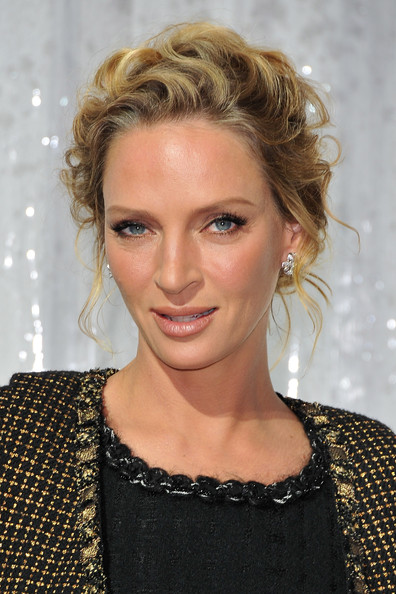 Here's a tip for picking which holiday updo works best for you: Find the celebrity you most resemble (aka features, bone structure, etc) and emulate her style. Chances are, she's paying Uber-bucks for a stylist. Take advantage of your celeb's style by showing YOUR stylist a pic for inspiration.
As long as you're pulling your hair back, you really can't go wrong. The holidays are all about glitz and glamour and turning it up a few notches. Play around with a few different styles, don your prettiest party dress, and celebrate the season in style!
Happy styling!
Carrie Rowlands Johnson is a freelance writer. She has been writing since she was a pre-teen. Growing up in a rural area in Pennsylvania, she honed her writing skills while her siblings explored the great outdoors. After college she spent a decade exploring local news beats in upstate New York. A microphone in one hand and a keyboard in the other, she worked as a television news reporter for stations including FOX 23 News formerly located here in Albany.

Today she owns Content by Carrie, lives in Saratoga with twin 9-year old boys and a three-pound Yorkie named Henry.

Read more of Carrie's published work at CarrieRowlands.com or follow her on Instagram and Twitter at Content by Carrie.
Latest posts by Carrie Rowlands Johnson (see all)