Holy cow! What happened? Did Valentine's Day sneak up on you? Here are some cute last minute Valentine's Day decor ideas that you can absolutely pull off. And if you plan things just right, some of these could also find their way into your Easter decor too.
Source: Valentine's Day Gift Idea
A quick, easy and inexpensive Valentine's Day Gift Idea for your sweetheart – candy and flowers with a twist. Only have one large vase hanging around? Substitute that mismatched glass you have in your cupboard for the smaller vase and go from there. You'll even save yourself a few dollars. PS – This same idea will also work for an Easter centerpiece. Replace tulips with daffodils and M&Ms with jelly beans.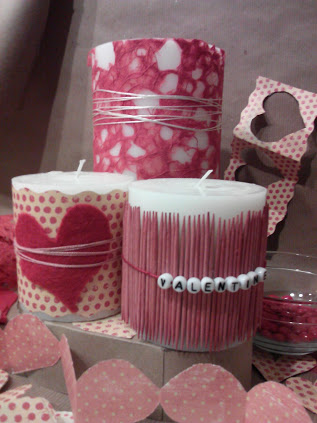 Source: Changeable Valentine Candle Decor | Hometalk
Talk about a craft that's easy peasy. Grab some pillar candles and wrap with colored paper, fabric, colored toothpicks or twine. Be careful if you plan on lighting them. You want things hot for Valentine's Day but not that hot.
Source: Valentine's Day Decor: DIY Floral Hearts | Design Improvised
Transform bunches of artificial flowers from the dollar store into these delicate heart wreaths for Valentine's Day. Not good with a glue gun? Forget the flowers. Spray with red or pink paint instead. Or just leave them 'naked'.
Source: Latex Painted Mason Jars for Valentine's Day – KA Styles
Okay. So this one on our list isn't one you'll be able to pull off really fast but we really, really like the look of these distressed Mason jars so we included them in this roundup. Also we think that, while you're at it, paint up some in mint green, yellow and Robin's egg blue and you'll be ready for Easter.
We hope these ideas inspire you to have a little fun this Valentine's Day.
Kim is one of the founding editors of Food Home Life Style. She loves to TRY new things, COOK with fresh ingredients, EAT with friends & family and CREATE in her home and garden. (Photo by Mary Ellen O'Loughlin)
Latest posts by Kimberly Hickok (see all)