Just back from maternity leave, Carrie Underwood's entrance back onto the music scene was nothing but spectacular. Underwood rocked twelve amazing looks, each different from the next, as she and Brad Paisley co-hosted the 2015 CMA Awards in Nashville, Tennessee.
If possible, Underwood appeared more in-shape than ever as she walked away with three awards, including the night's biggest award— video of the year for Something in the Water.
Near-angelic in a plunging peach peplum Gauri+Nainika gown, this look is one of our favorites. The deep-V neckline and draping fabric showcase Underwood's curve without showing too much. The color is perfect with her fair hair and complexion.
Check it out.
Source: [PICS] Carrie Underwood's Outfits At CMA Awards — See All Her Looks – Hollywood Life
Another favorite is this hot look in leather, showcasing her toned legs.
Source: [PICS] Carrie Underwood's Outfits At CMA Awards — See All Her Looks – Hollywood Life
But let's get back to the peach number, shall we? Fundraising season is heating up. Holiday parties are on the calendar. How awesome would it be to show up in something like this? Skip the obligatory blacks, emeralds, cobalts and reds and make a statement in peach. Or find something with a plunging neckline. Or play with a peplum.
Take a look at this shorter, fun, colorful party dress by BCBGMAXAZRIA Tatyanna Pleated Cutout Dress, $238.40 (sale price) available at LordAndTaylor.com.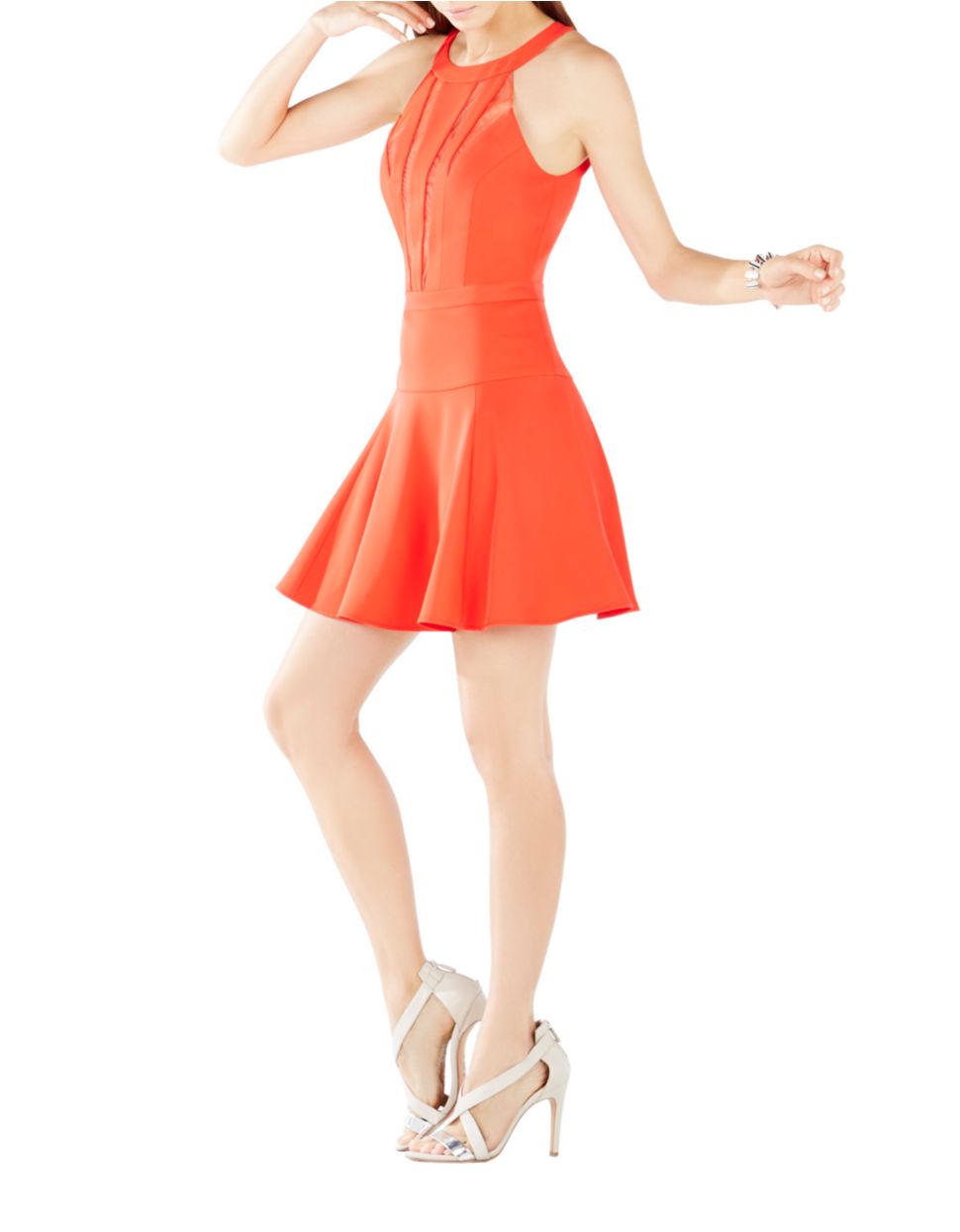 Source: Brands | Dresses | Tatyanna Pleated Cutout Dress | Lord and Taylor
If you want to stick with a traditional red and like the plunge, how about this embellished keyhole dress, $129 from bebe.com.
Source: Embellished Keyhole Dress – All Dresses | bebe
If the peplum is what catches your eye, here's a shorter dress with peplum available in a variety of colors from Macy's. Kensie sleeveless lace-inset peplum ress, $71.99 (sale price).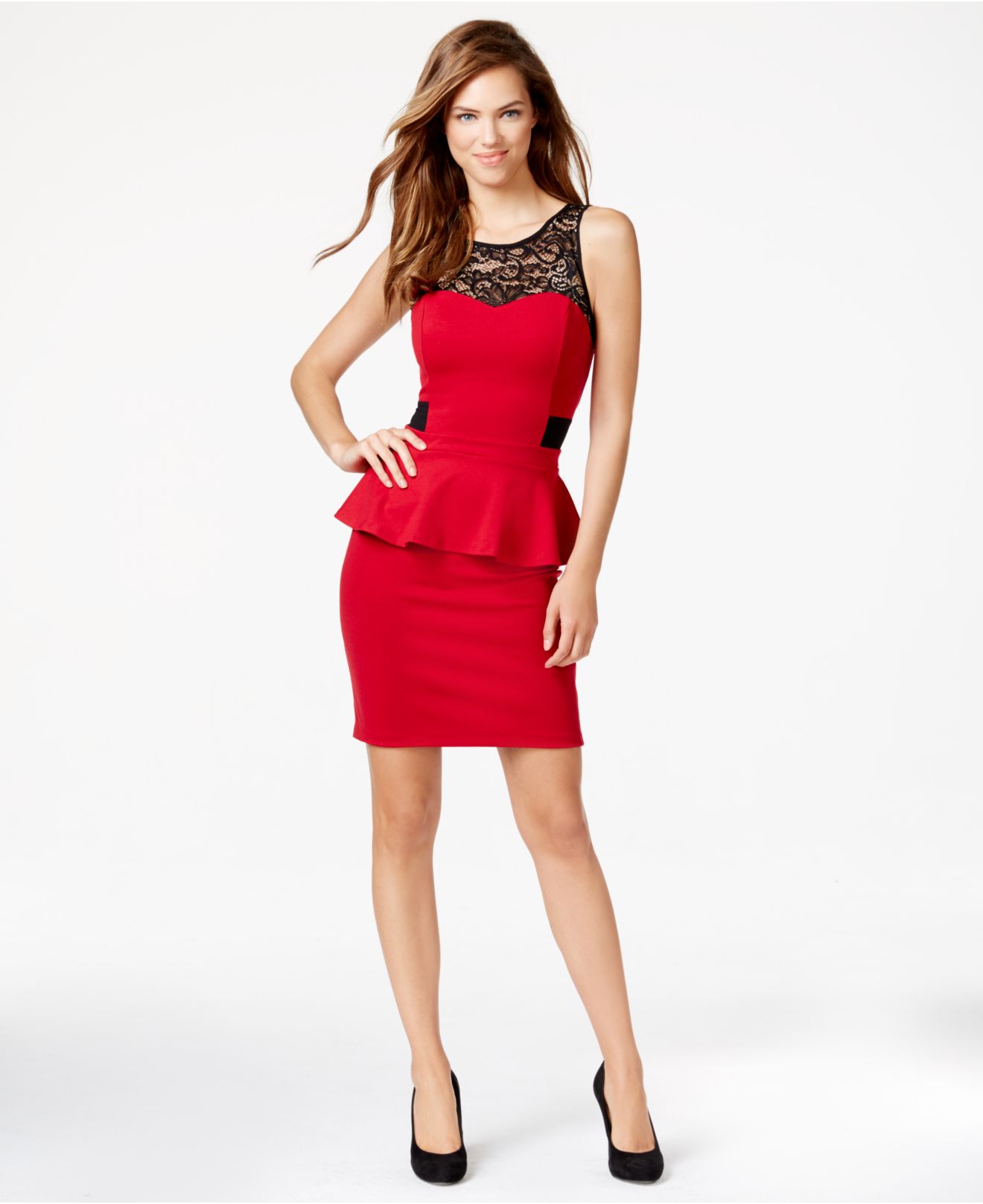 Source: kensie Sleeveless Lace-Inset Peplum Dress – Dresses – Women – Macy's
No matter what you choose, you're sure to be party-ready if Carrie Underwood is your inspiration!
Happy Shopping!
Carrie Rowlands Johnson is a freelance writer. She has been writing since she was a pre-teen. Growing up in a rural area in Pennsylvania, she honed her writing skills while her siblings explored the great outdoors. After college she spent a decade exploring local news beats in upstate New York. A microphone in one hand and a keyboard in the other, she worked as a television news reporter for stations including FOX 23 News formerly located here in Albany.

Today she owns Content by Carrie, lives in Saratoga with twin 9-year old boys and a three-pound Yorkie named Henry.

Read more of Carrie's published work at CarrieRowlands.com or follow her on Instagram and Twitter at Content by Carrie.
Latest posts by Carrie Rowlands Johnson (see all)