The first home we ever bought as a couple was 1190 square feet. The home I grew up in was 1600 square feet, and my mother never stopped talking about how small it was. My brother- and sister-in-law bought a 4 bedroom, 2.5 bath, 2700+ square foot home before they ever even had a child. I think it's safe to say square footage is the bragging right of the modern American family–everyone wants to be able to say they have the biggest.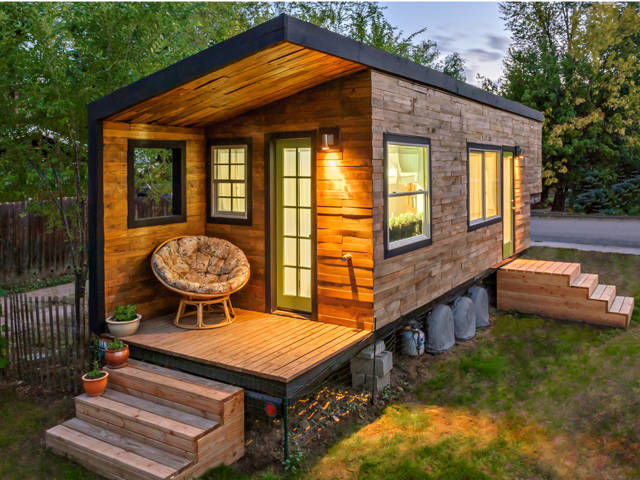 Last year, we were living in a 2,000+ square foot home in upstate New York. We were renting, so it wasn't something we sought out, it's just what happened to be available and in our price range in the tiny town of Queensbury. But it was the largest space I've ever lived in, so I thought it would be amazing to have that much space.
And yet, there's a movement afoot. A movement against more: more space, more things, more ownership, more debt. The tiny house movement is an act of rebellion in our culture of capitalism. People are saying no to owning a home they will never see paid off. They are saying no to being strapped to one location for the remainder of their lives. They are saying no to a future as a 90-year old Wal-Mart greeter because they could never safe enough to survive.
Now, if you watch the reality shows that are capitalizing on the tiny house trend, you see all sorts of shiny new homes packed into trailers or on lots in exotic locales with 360-degree views. It's probably pretty easy to downsize when that's your future. But what about when it's not sexy? What about when you're moving your 5-person family into a modest 2-bedroom in the middle of a suburban neighborhood in the American Southwest with no special storage solutions, no ultramodern conveniences, no camera crews or celebrity designers?
That's what we're doing.
We could afford a larger house. Or a more expensive house. But I'm done playing that game. It's a game I've never been able to win. Our plan is to live here, fix it up, pay it off, and then rent it out. And then we're going to do it again.
This home has no laundry room, no dining room, no playroom, no extras. The kitchen is awful and there are three different kinds of flooring represented all in 866 square feet. But you know what? It's affordable, our kids are small and love to be together, and this place is going to be paid off in four years. And by then? We will own a home outright and will have bought a vacation place in upstate New York, where we can enjoy the summers and pack up and leave before winter arrives.
That's my version of the American Dream.
In this blog series, I'll be sharing with you the process of buying and moving into a substantially smaller home, the reactions we get from friends, family and the mortgage company, the process of our DIY projects to make our small space great, and how to screen, rent and manage a rental property on your own.
Thanks for joining me on this journey. It's going to be a bumpy ride.
Erin Burt is a freelance writer and mom of three girls. She enjoys yoga and reading non chick-lit fiction when she's not translating the ramblings of toddlers or training for her next half marathon.
Latest posts by Erin Hayes Burt (see all)