Long, gorgeous boots pulled over leggings or skinny jeans. Short, cute booties peeking out from skirts and jeans and dress pants. Pumps with just about anything. Layers. Chunky sweaters. Body-hugging V-neck sweaters. Cardigan sweaters. Ponchos. Colored denim. Thick leggings. Scarves. Fingerless gloves. Leather jackets.
I grow more and more excited as I dig through my closet, pulling out all of the glorious surprises that linger way back in the way back. I stuffed them there in April or May, when I grew tired of looking at them and their habit of reminding me of snow and cold. I was ready for flip flops and sandals! Shorts and capris! Sleeveless tops made of silks and cottons. But I am so over my warm weather wear and the style limitations attached and realizing— right now is without question my favorite fashion time of year!
While it is my absolute favorite time of year to dress, it can be tricky. The sun can be so generous and gorgeous and warm mid-day. But when it dips below the horizon, the temperature takes a nose dive. The key is layering.
Vests are divine this time of year. Layer one over a knit t-shirt and sweater if you're heading to the baseball field in the morning. Check out this one we found at Nordstrom Rack. In black, navy, or plaid it'll pair with just about any casual outfit.
Tommy Hilfiger Knit Trim Vest, $49.97
Denim jackets are another great pick. Again, layering is key. Throw it on over a t-shirt and sweater on your way to the farmer's market in the morning or when you're dropping the kids at school and peel off the sweater during the heat of the afternoon when you're driving around doing errands. Wear it with colored denim capris, jeans, sweatpants, or even a cute dress and leggings.
1969 Denim Jacket, $69.95 (And remember- you can ALWAYS hit a great sale or coupon at Gap.)
Leather jackets! We love wearing our with dark skinny jeans and pumps when meeting a friend for drinks. Check out this faux leather from Aeropostale— budget-friendly and super-cute!
Aeropostale Women's Faux Leather Axymmetrical Zip jacket, $28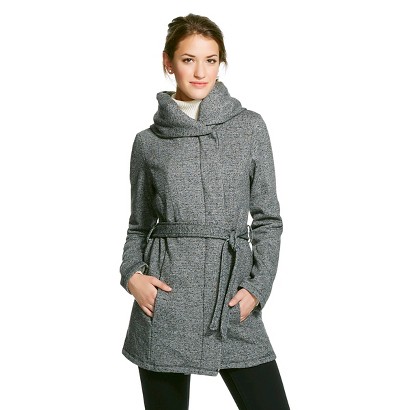 Women's Fleece Wrap Jacket; $44.99
No matter which you choose, embrace the crisp air of fall and layer up!
Happy Shopping!
Carrie Rowlands Johnson is a freelance writer. She has been writing since she was a pre-teen. Growing up in a rural area in Pennsylvania, she honed her writing skills while her siblings explored the great outdoors. After college she spent a decade exploring local news beats in upstate New York. A microphone in one hand and a keyboard in the other, she worked as a television news reporter for stations including FOX 23 News formerly located here in Albany.

Today she owns Content by Carrie, lives in Saratoga with twin 9-year old boys and a three-pound Yorkie named Henry.

Read more of Carrie's published work at CarrieRowlands.com or follow her on Instagram and Twitter at Content by Carrie.
Latest posts by Carrie Rowlands Johnson (see all)